TripMentor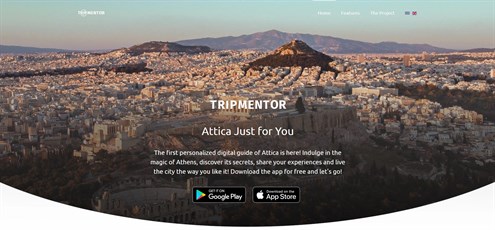 The TRIPMENTOR research project concerns a bilingual (English, Greek) interactive mobile application that provides immediate recommendations for a personalized, complete and unique travel experience to the visitor of Attica. TRIPMENTOR provides the user with alternative routes with stops at the suggested points of interest and cultural, entertainment and sports events in real time and in direct correspondence with the preferences of the user, as these are submitted by the user. Each route includes stops that have semantic, cultural, chronological or thematic relevance to each other, creating a unique storytelling travel experience and incorporating elements of gamification, that are designed to fit the user's preferences and his / her personal interests.
Through user satisfaction due to personalized services, we aspire to the promotion of the organizations and companies, that are in the business of cultural, entertainment and tourism services in the Attica region and to the strengthening of its position as a city break holiday destination.
The TRIPMENTOR project was implemented by the three below collaborating organizations
GEOAPIKONISIS S.A.
The Department of Communication, Media and Culture – Laboratory of New Technologies of the Panteion University
The Department of Informatics and Telecommunications of the School of Economics, Management and Informatics of the University of Peloponnese
The project was included in the 8th amendment of the 31/07/2018 Decision on the Incorporation of State Aid Acts of the G.S. of Research and Technology, within the call "RESEARCH - CREATE - INNOVATE" with OPS Code 2076 in the Operational Program "Competitiveness, Entrepreneurship and Innovation" financed by the European Regional Development Fund (ERDF).